How abrasive is your toothpaste?
12th October 2022
By Dr Arjun Varma
With some many toothpastes entering the dental market which is best for me?
Some patients love a specific brand of toothpaste and will never venture away from their brand. However, others are not too bothered and will get whatever that's on offer in the supermarket. But did you know certain brands of toothpaste are incredibly abrasive to your teeth and gums?
Some manufacturers claim their toothpaste can 'whiten' whilst others are focused on sensitivity which is helpful for certain cases. But have you ever wondered how these toothpastes are formulated to produce specific results? This blog will focus on toothpaste abrasiveness.
As your local dentist in the Pinner, Hatch End, Northwood, Harrow and Ruislip area, we have created this blog to ensure you are empowered with the knowledge to make choices best suited to you.
American Dental Association (ADA) – RDA Chart
All toothpaste has some degree of abrasiveness and this coupled with over-zealous toothbrushing is a disaster waiting to happen. We measure toothpaste abrasiveness using an RDA value (Relative Dentin Abrasion). The ADA created a range of abrasivity that rates different toothpastes and their effect on the teeth. The list spans from 0-250 and is segmented into 4 sections (Low Abrasive to Regarded as a Harmful Limit). Enamel is not usually as susceptible to abrasion (the wear on the teeth from a mechanical source, like a toothbrush with toothpaste), but over time, the effects can be seen on both teeth and especially gums.. The underlying structures of enamel such as dentin and the root surfaces, which are much softer than the enamel portion of the tooth are significantly affected by how abrasive a toothpaste is. We recommend trying to use toothpaste that is in the 0-70 range (blue section) on the RDA Value List along with a soft/extra soft toothbrush and a gentle, but thorough, touch.
An example of tooth wear (Abrasion)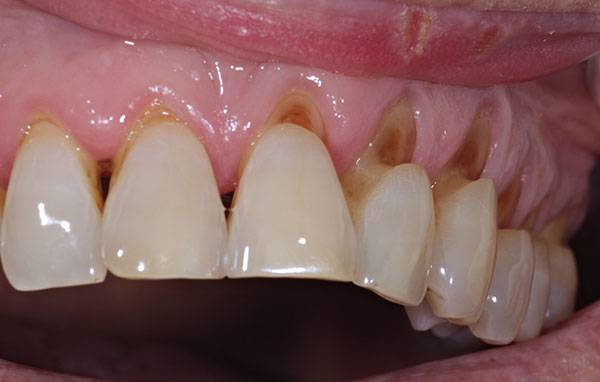 The image above demonstrates a case where the patient shows significant abrasion to the cervical (neck portion) of the teeth. These can be complex to repair and treat involving both restorative and periodontal regenerative care to restore back to health.
This is why routine dental examinations are important for your dentist to assess and diagnose these in the early stages. They should then recommend interventional advice to prevent them worsening and to take records of the current state of the teeth to keep under observation.

Dr. Arjun Varma
If you are unsure of whether you are brushing correctly, book yourself a hygiene at Vertüe Dental, where we will go through step-by-step on how to brush effectively.
Vertüe Dental does not just provide cosmetic dentistry in Pinner, but we also provide excellent dental prevention care and general dentistry in Pinner, Hatch End, Northwood, Harrow, Ruislip, Eastcote and other areas across Middlesex and Hertfordshire.
I hope you have found this blog useful and please feel to share it with others who may also find it beneficial to read!
If you would like to book a consultation directly with Dr Varma to see how he can assist you in maintaining or improving your dental health, please visit Vertüe Dental Pinner, providing exceptional dental care to patients in North West London.
Back to blog